Contact-Free Service
 Need something today? We're here to help.
1. In-Store Shopping (UPDATE: WE'RE BACK BABY! The store is open to walk in traffic once again as of June 11th, 2021)
We're happy to open our doors to you once again, but a few things have changed in light of the health crisis we continue to face.

HAND SANITIZING: Please use the provided hand sanitizer before entering the store. This also applies to gloves you might be wearing.

SOCIAL DISTANCING: Please ensure you keep 2m distance between yourself and our employees and fellow customers at all times.

STORE OCCUPANCY: To ensure the safety of our employees and customers, we are currently limiting the number of customers in the store to 10 at any given time.
You can visit us if:
have not been diagnosed with COVID-19
do not have symptoms of COVID-19
have not travelled outside of Canada in the past 14 days
are not in quarantine (self-isolating)
are not isolating
2. Curbside Pickup:
Contactless curbside pickup is fast, free and easy. Simply reserve your item on avworld.ca, complete your payment, then head to the store after you've been contacted to let you know it's ready. When you get here, call us and we'll bring your item out to you!
As part of our commitment to ensuring the community's health and safety, our in-store shopping experience is not currently available. Instead, we're offering curbside pickup services for online orders, 7 days a week from 10am-5pm through our Curbside Pickup option to make sure you get what you need safely.
If you're not feeling well, or are recommended to be in quarantine, you can still get the things you need by ordering from avworld.ca and having them delivered to your home. We continue to offer free shipping on orders over $200 (before tax) within Canada.
We take the safety of our staff and our customers very seriously. Our staff will be wearing gloves and masks and use disinfectant before and after each drop off.
In accordance with this protocol, we will not be accepting returns or exchanges curbside. Returns or exchanges can be handled either by shipping the item back to us for a refund, or waiting until we open our doors again as we'll be extending our returns period until then.
Here's How It Works:
Make your purchase online at avworld.ca

- Make sure you include the contact information of the person picking up your order.

We'll notify you when your order is ready for pick-up

by either phone or email. Please wait until you have been contacted before coming by the store.

Call 416.674.5959 when you arrive

and park in the "PICKUP ZONE" as shown below. To help minimize contact during pick up, please park with your trunk open towards the building.  Let us know your name, order number, product ordered, and the model and colour of your car. 

Wait in the car.

One of our team members will come to verify your ID with your windows rolled up. When you're good to go, pop your trunk and we'll place the item safely in the back of your car.

Close your trunk and you're all set!

To avoid all unneccessary contact we ask that you handle the closing of your trunk once our team member is a safe

2+ meter

distance from your car.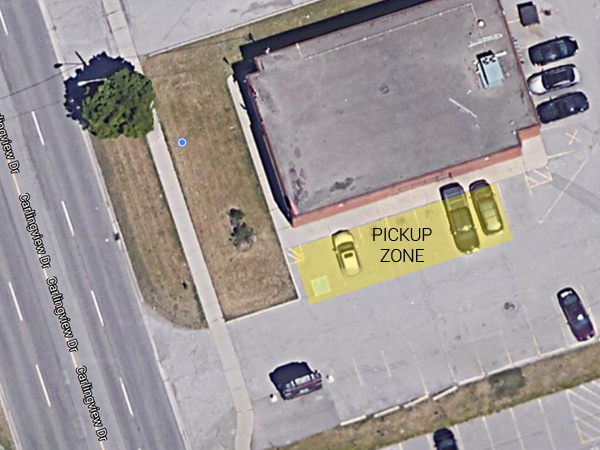 3. Delivery:
The most contact-free of all three options is to have your purchase delivered. 
In light of the current circumstances we're offering free shipping over $200 (before tax). Subject to change without notice. 
Please be safe, healthy and thanks so much for your continued support!
- your friends @Avworld